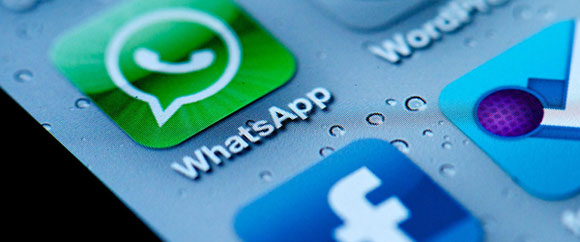 Facebook recently acquired a company called WhatsApp for $19 billion dollars. You may never have heard of WhatsApp before this deal, but it's a very popular messaging app in many parts of the world and Facebook has big plans for the purchase.
WhatsApp Growth
WhatsApp has grown rapidly since its founded in 2009 by Americans Brian Acton and Jan Koum who, according to Wikipedia, were both former employees of Yahoo. To get a sense of their rapid growth, consider that they were processing two billion messages per day in April of 2012 and by June of the following year they hit a record of 27 billion messages in a single day.
The service also has almost half a billion users according to Facebook founder Mark Zuckerberg, who yesterday defended his company's purchase at the World Mobile Conference in Barcelona. Zuckerberg went on to say that Facebook intended to reach people who wouldn't otherwise be connected, "We see WhatsApp on a path to connecting more than 1 billion people. There are very few services that can reach that many and they are all incredibly valuable." (http://www.businessinsider.com/zuck-whatsapp-is-so-incredibly-valuable-2014-2)
WhatsApp Growth and News
The WhatsApp service is popular for several reasons. One major reason is that it works cross platform, allowing people on almost any Internet connected device to send messages using SMS. WhatsApp is not only for text messages either. The service sends images, video and audio. Add to this reports from Bloomberg News that CEO and co-founder Jan Koum announced plans to offer free phone calls through the platform.
Many people have questioned the deal given that WhatsApp has, "little to no profitability". For example, Mark Schaefer of Grow writes, "There is a lot of head-scratching going on today as people try to make sense of why Facebook would pay $16 (later reported to be $19 billion) billion for a company with 32 employees and little to no profitability." (http://www.businessesgrow.com/2014/02/20/whatsapp/)
Facebook User Speaks
I've spoken with Facebook users who say they don't like the move because now Facebook has their phone number. Apparently, Facebook is automatically moving user data from WhatsApp over onto their social platform. However, this same user (who wishes to remain anonymous) said that they would continue to use both applications. This is a case in point of how much people enjoy using WhatsApp. 70% of the apps user base logs in at least once a day.
What appears to be happening here is that Facebook has made a calculated decision to purchase a vast amount of user data. This data is valuable for several reasons, but primarily because they can now more accurately target ads. More accurately targeting ads increases purchase conversions, and brings better return on investment for Facebook.
Additionally, as Mr. Zuckerberg pointed out at the recent Barcelona conference, he is intending to increase their user base by one billion users. These users will be coming from countries where Internet access is currently limited, and where incomes are limited as well. Currently, WhatsApp charges only 99 cents a year for their service. Multiply that number by one billion and you can quickly see how these vast user numbers translate into dollars quickly.
Was WhatsApp Worth $19 Billion?
Was the WhatsApp purchase worth the money? Only time will tell, but as more information comes to light the deal certainly looks calculated to bring in big revenue for Facebook. Initial impressions on Wall Street are positive for the time being, "Traders 'shrugged off the size of the deal and the stock is acting like it's a good thing'".